Permeable pavers
Permeable pavers allow stormwater to infiltrate the underlying aggregate base, where it infiltrates the ground or drains to a system of underdrains. Depending on the system and use, gaps may be filled with various infiltrating material. In lower traffic areas, a soil and planting mix could be used. In higher traffic areas, a gravel system may be more appropriate. Proper maintenance of these systems is crucial for keeping gaps from becoming plugged.
Maintenance sheets
Permeable pavement (includes pervious concrete, porous asphalt, permeable pavers, open-celled paving grid with gravel or grass)
Maintenance is needed if you see these signs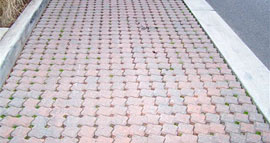 Standing water during or after rainfall
Visible debris or sediment on pavement surface
Height of gravel between pavers depleted by more than .5 inches
Moss growth inhibits infiltration or poses slip safety hazard
Tips for fixing problems and general maintenance
Distribute gravel over pavers and sweep into joints between pavers
Replace broken pavers as needed to prevent structural instability
Report Spills
Chemical spills such as oil, gasoline, paint or herbicides/pesticides may cause harm to surface or groundwater. Spills MUST be reported to the Washington State Department of Ecology and your local city or county. DO NOT attempt to rinse away the spill until it's been checked.
Washington Department of Ecology 24-hour Spill Response Number: (360) 407-6300