Vaults
Vaults are underground stormwater facilities that house various technologies to treat stormwater. Often, the only sign of a vault is a manhole or rectangular access door in the ground. Work in these facilities is highly specialized and usually requries confined space training. Learn more about these types of facilites below. Find a contractor here or or contact your local jurisdiction for information specific to your facility.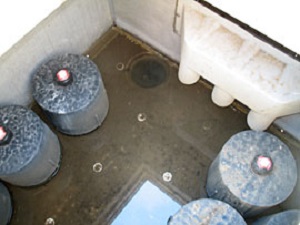 Stormwater filter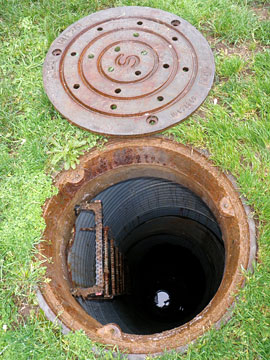 A stormwater filter is a passive, flow-through filtration system. It is comprised of a vault that houses rechargeable filter cartridges. It works by passing stormwater through the filters, which traps particulates and/or absorbs pollutants such as dissolved metals and oils.
The filter material is housed in cartridges enclosed in concrete vaults or manholes. Various filter materials are available from private companies.
Vortex sedimentation vault
A vortex-enhanced sedimentation vault consists of a cylindrical vessel in which incoming water spirals like a whirlpool, causing the heavier particles to settle out. It uses a vortex-enhanced settling mechanism (swirl-concentration) to capture solids, floatables, oil, and grease.
Closed detention system
A closed detention system is an underground structure, typically a concrete vault or series of large diameter pipes or plastic modular chambers, which temporarily stores stormwater and releases it slowly. They typically are used on sites that do not have space for a pond and are placed under paved surfaces. These underground detention systems are enclosed spaces where harmful chemicals and vapors can accumulate. Therefore, the inspection and maintenance of these facilities can only be done by individuals trained and certified to work in hazardous, confined spaces.
Finding a maintenance contractor to service vault systems
The majority of vault systems used in Clark County are manufactured by three companies, Contech, Oldcastle, and Baysaver Technologies. The manufacturer name is usually found on the vaults. Find a list of Contech local contractors here.
Confined space warning for underground facilities

Due to potential dangers, only trained and certified persons should enter confined spaces. Confined spaces are defined as:
Large enough that an individual could fully enter the space and work.
Having limited or restricted entry or exit.
Not primarily designed for human occupancy.
For more information visit Washington State Department of Labor & Industries.
Maintenance sheets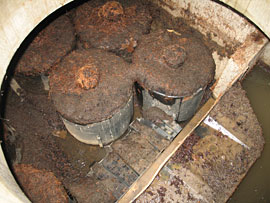 Maintenance is needed if you see these signs
Leaves, trash and other debris accumulated in vault, pipe or inlet/outlet
Accumulated sediment depth exceeds 10% of the diameter of the storage area for 1/2 length of storage vault or any point
depth exceeds 15% of diameter (closed detention system)
Sediment in vault bottom exceeds the depth of sediment zone plus 6 inches (wet vault)
Cracks wider than 1/2 inch at joint of inlet/outlet pipe or wider than 1/4 inch in slab
Ventilation area blocked or plugged
Inlet/outlet pipes or access cover damaged
Tips for fixing problems and general maintenance
Remove any vegetation covering the lid.
Inspection or maintenance that requires entering the underground facility can only be done by individuals trained and certified to work in hazardous confined spaces. Over time, filter cartridges will need to be replaced. Typical ongoing maintenance includes:
Removing trash and debris
Removing accumulated sediment
Identifing sources of leaks or spills and containing them as quickly as possible
Ensuring structural components are functioning properly
Check inlets and any open or confined standing water for mosquito larvae (see photos below). If mosquitoes are a concern, contact Clark County Mosquito Control District for information. The 24-hour service request line is (360) 397-8430.