New watershed signs coming soon - winning sign will be announced in 2020!
Thanks to everyone who cast their vote to choose the new watershed sign. We'll announce the winning sign in January 2020.
Option A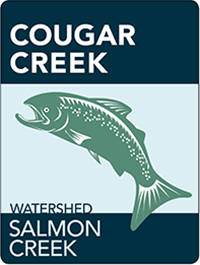 Option B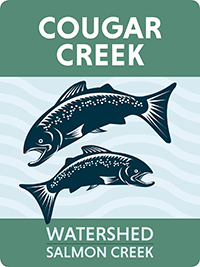 Option C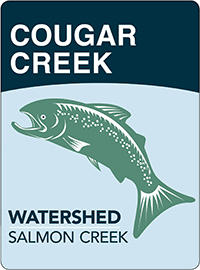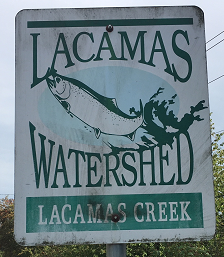 In 2018, Stormwater Partners of SW Washington received a grant from the Lower Columbia Fish Recovery Board (LCFRB) to revitalize 25-year-old watershed signs along streets and trails. The grant also funds the creation of an interactive StoryMap where people can learn about Clark County watersheds. The goal of the project is to foster connections between Clark County residents and their waterways by raising awareness of our watersheds, and providing educational resources for the community to learn about beneficial actions to protect watershed health. The project consists of three components.
1. Watershed sign replacement. In the mid-90s, Clark County installed watershed signs along streets that cross named streams. These signs included the name of the waterway (stream, creek, river, etc) and the name of the watershed. Nearly a quarter century later, many of the signs have disappeared or become faded or damaged. This component of the project will replace up to 250 watershed signs to help residents throughout Clark County identify their waterways and watersheds.
2. StoryMap of Clark County watersheds. Each year, thousands of students, educators and inquisitive community members seek to learn more about Clark County's watersheds. This component of the project will utilize esri StoryMaps to create an interactive experience where anyone can explore Clark County watersheds. The map will cover issues facing each watershed, the fish and wildlife that are present there, and beneficial actions people can take to protect the health of their watershed. The StoryMap will launch in early 2020.
3. Watershed health campaign. This project will culminate with a watershed health campaign to connect the community with the new signs and StoryMap in fun, interactive ways. The campaign, which launches in early 2020, will include a variety of social media challenges and trivia contests that can be answered by visiting the Story Map and exploring Clark County watersheds. By participating in these fun activities, residents can win prizes while helping to spread important messages about protecting watershed health - a real win-win!